Project Snapshot
BL-48 Tilting Lead System
B-6505HD Diesel Hammer
Beam Launcher
Top Down Construction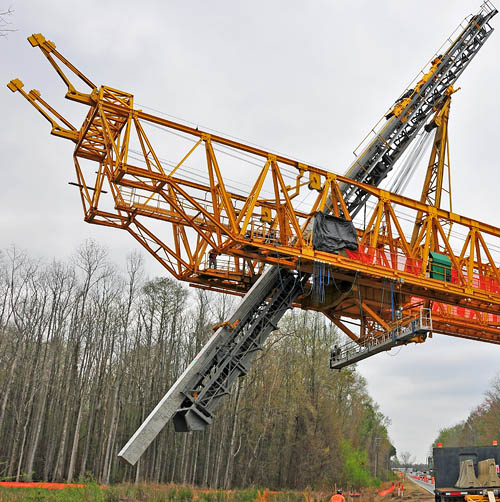 One of Berminghammer Foundation Equipments proudest achievements is the tilting lead system, an engineering masterpiece that introduced an entirely different and revolutionary approach to building bridges.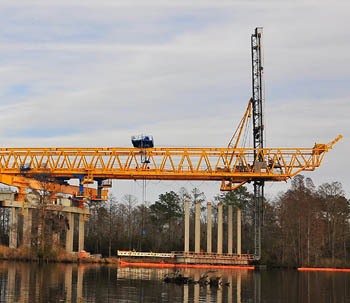 When a joint venture between Flatiron and United was challenged to build a 4.5 km bridge over the Tar River and surrounding wetlands, naturally they approached Berminghammer with a unique engineering challenge; combining a beam launching girder system with pile driving equipment.
The beam launching girder, made by Deal of Rizzani de Eccher of Italy, combined with the Berminghammer tilting lead system, loads, locates and drives the piles for each pier without disturbing the surrounding area. Each pier is utilized as subsequent support for the equipment, allowing the project to do away with traditional water equipment and access trestle – both of which were simply not an option for this project
With the Berminghammer tilting lead system, piles are loaded horizontally – something that is not usually done, especially when the piles can weigh up to 44 metric tonnes! The pile is then secured to the hammer and the lead before being rotated to the vertical position and driven by a low emissions Berminghammmer B6505HD clean combustion hammer.
For this project, Berminghammer constructed a test structure to test the tilting lead system design with a full size pile, just six months after beginning the design process – a reality made possible thanks to a unique wealth of engineering, construction and manufacturing expertise.