Project Snapshot
L23 Flying Lead
BDH40 Drill
39" Rock Sockets
In early 2013, Irving Shipbuilding started a $300-million modernization of the Halifax Shipyard to accommodate the building of naval vessels for the federal government. The scope of the work involved drilling 39" rock sockets for which Irving contacted Berminghammer to develop a complete drilling system.
Berminghammer designed a custom flying lead system to index into a template created by Irving. The flying lead system consisted of 49' of L23 Flying Leads a BHD-40 Drill, Berminghammer's 18-in Drill String and a custom Berminghammer Drill Bit. The order was confirmed at the beginning of March and the equipment was delivered at the end of June. This included the manufacturing of an entirely new BHD-40 Drill as well as the lead system and drill string. The equipment was shipped pre-assembled to allow for shorter assembly time on-site.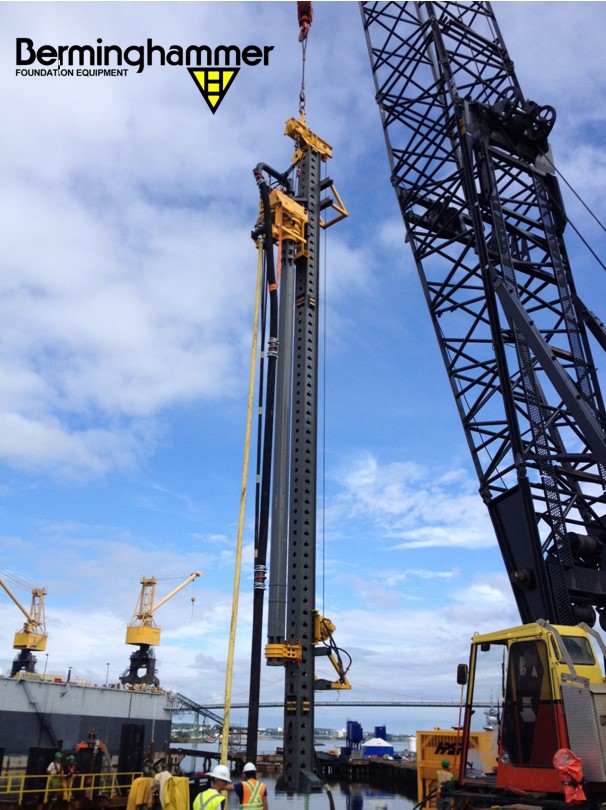 Upon delivery of the system, project engineer Louis Fritz flew to Halifax to assist the shipyard team in learning the equipment and temporarily managing the drilling process. Andrew Folkins - Project Manager for Irving Equipment was extremely satified with the production rates.
Berminghammer is pleased with the business relationship that has been developed with Irving and is looking forward to possible future work.