Reverse Circulation Drilling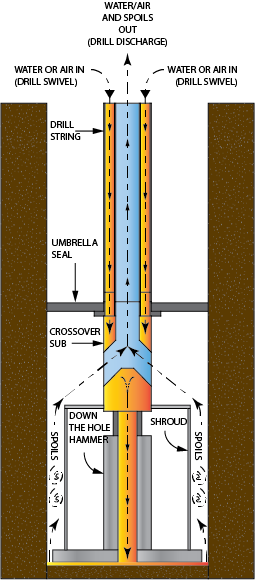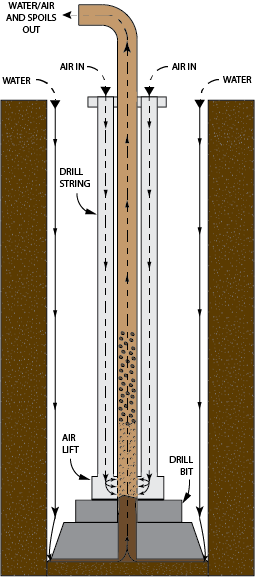 'Reverse Circulation' drilling involves the supply of air down through the drill-string to decrease the 'effective density' of the water in the center of the drill-string. Operating much like an 'air-lift', the drilling spoils are carried out of the hole through this rising column lower-density air/water mixture (see Figure). Reverse Circulation requires that the outer annular area of the casing be kept full of water in order to provide the hydraulic head required to effectively 'push' the central column of air/water/spoils up and out of the hole through the central pipe of the drill-string.
Reverse Circulation is an effective drilling technique for a wide range of hole diameters including very large holes – up to 3-m diameter and larger. It is also effective for very deep holes, and holes drilled into hard-rock.
Reverse Circulation is able to control/direct the drilling spoils by simply directing the discharge pipe to the desired site location or even to a dedicated barge (for environmentally sensitive, overwater applications). This cannot be accomplished with direct circulation which allows water and cuttings to spill out of the top of the pile.
Reverse Circulation can be used in conjunction with rotary drilling bits as well as Down-the-Hole-Hammer applications. The Berminghammer Reverse Circulation Drills are particularly well suited to Down-the-Hole-Hammer applications due to their simple, rugged design and construction.