Bermingham Construction was founded in 1897 by William Bermingham, who was succeeded by three further generations of Berminghams at the helm. The company started building the foundation of Canada's infrastructure and has continued that role into our second century. Berminghammer Foundation Equipment began as part of Bermingham Construction under the Bermingham Foundation Solutions name, which was purchased by Soletanche Freyssinet in 2013. As of 2019, Bermingham Foundation Solutions merged with Agra Foundations to become Soletanche Bachy Canada.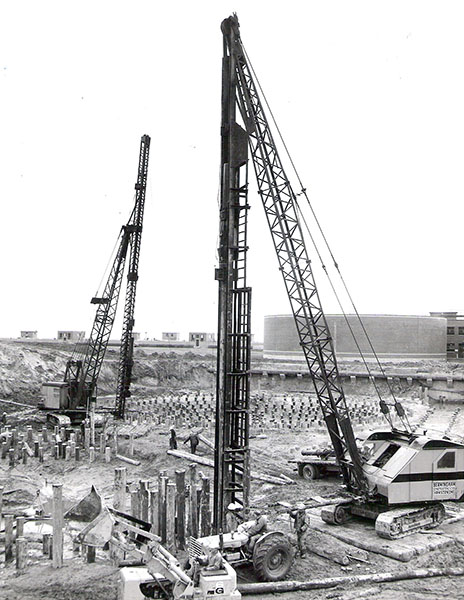 Always innovative, Bermingham Construction brought the first diesel impact hammer to North America in the early 1950's and started developing their own line of foundation specialty equipment in the late 1960's. The Berminghammer trade name has become synonymous with leading edge technology around the world.
What makes Berminghammer unique in the foundation equipment manufacturing world is that we are also a contractor – trying new equipment and procedures, field testing modifications and seeking improvements in our Land and Marine Construction Division on every project. No one knows more about foundation construction than the people that spend their life in the field, and at Berminghammer we tap into that wealth of experience every day.
That century of field experience is available to our customers through our site support staff that are available on your jobsite, or through our advance project planning services.
Berminghammer's Project Planning Services utilize a unique three dimensional modeling system to plan, optimize and present the best construction scheme possible to owners, approval agencies and even assist your own workforce in understanding the sequencing of a complicated construction project. The added benefit is that the planning is done in advance where potential interference problems and the like are solved on paper, not in the field with million of dollars of equipment on standby until a solution can be determined.
Recently Berminghammer has been innovating in the fields of reverse circulation (RC) drilling, specifically large-diameter RC as well as something new to the industry - excavator mounted piling techniques.
Berminghammer is considered a world leader in innovative solutions. Whether it is reducing downtime on site or creating construction methodology never seen before, the Berminghammer name is synonymous with innovation in foundations.